[xyz_school_search_box]
Paralegals sometimes have to endure a little confusion over the exact role they play in a law office since they sometimes split tasks with other people, namely legal secretaries. Since paralegals are sometimes referred to as "legal assistants," people outside the industry sometimes think of them as "administrative assistants," or legal secretaries.
[xyz_feat_school] [xyz_school_button]
But paralegals actually occupy a very different, more legally-focused niche within law firms, not to mention that training and qualifications for the two positions are vastly different.
The job of a legal secretary is distinct and important in its own right. They serve as administrative assistants, often brining special training and experience to the job that allows them to work as effective admins within the field of law. Through this specialized training, legal secretaries learn to become proficient at handling all administrative duties within a law office or legal department setting.
Legal Secretaries are Not Paralegals, but Sometimes Paralegals Can Be Secretaries 
A legal secretary serves in a clerical capacity, typing, transcribing and filing, while a paralegal would assume much more specialized legal duties and a lot more responsibility, often writing legal drafts and creating legal correspondence on behalf of the attorney.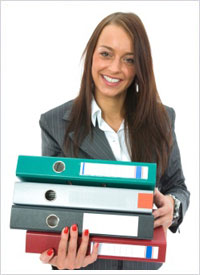 The main difference is the degree to which paralegals are both allowed and expected to take on actual, substantive legal work. Secretaries file, copy, schedule, and perform a thousand other tasks that any and all offices rely on – not just law offices.
Paralegals may duplicate some of these tasks in performing their own job duties, but they also have the education and training to take on more independent and specialized work that includes:
Reviewing laws and precedents to draft briefings and memos
Interviewing clients and participating in depositions
Undertaking in-depth legal research
Investigating facts of cases
In each case, the paralegal is essentially taking on a subset of the legal work that an attorney would otherwise have to perform personally.
Although legal secretaries need to have a good grasp of legal procedure and terminology, they do not have the training to perform independent legal work.
However, many legal secretaries go on to become paralegals after obtaining an associate's degree in paralegal studies and gaining professional certification.
But paralegals know that no law office would survive long without dedicated legal secretaries there to handle the thousand tasks necessary to keep an office running.
Legal Secretaries Bring Their Own Specialized Expertise to Law Offices
Legal secretaries are the administrative force behind the practice: managing files, maintaining calendars, scheduling appointments, preparing documents, making travel arrangements, maintaining databases and taking notes during meetings, among many other duties.
If the law firm had a mother, it would be the senior legal secretary on staff.
Legal secretaries are not legally required to meet education or training standards and many have not attended college. Because their jobs do not require the same depth of legal knowledge, legal secretaries earn less than paralegals. However, continuing education and opportunities to specialize do exist within the field.
In its Guidelines for the Utilization of Paralegal Services, the American Bar Association (ABA) notes that the words "paralegal" and "legal assistant" are often used interchangeably, and, in fact, the ABA identifies these as being the exact same.
Despite the official definition, some people and firms do use the term "legal assistant" to describe their legal secretaries. There are some regional variations in how the term is used, despite the prevailing ABA definition.
Job Duties of the Legal Secretary
Legal secretaries are employed in a number of settings, even outside of law firms. They're found in legal departments within private corporations, with insurance companies and real estate firms often hiring legal secretaries to perform duties that include:
Arranging for the delivery of legal paperwork
Typing correspondence and legal paperwork
Transcribing court proceedings and other recorded meetings
Scheduling, coordinating and confirming court dates, appointments, and meetings
Conducting research in legal matters
In smaller law firms, it is also not unusual for legal secretaries to also answer phones and greet clients.
Legal secretaries must have excellent phone and computer skills and must be able to effectively perform a number of routine tasks at a moments notice:
Maintain calendars and schedules for a number of attorneys
Develop and maintain a comprehensive and organized billing system
Ensure all billable hours are accurately recorded
Understand the basics of a number of court documents, such as summons and subpoenas
Make travel arrangements
Arrange for the filing of court documents
The Role of the Legal Secretary Within Law Offices and Practice Settings
Similar to lawyers and other professionals in the legal field, legal secretaries often specialize in certain areas of law, such as family law, contract law, or will and estates. If a legal secretary specializes in trial law and works for a trial lawyer, accompanying the lawyer to court to take notes for the trial is also commonplace.
Legal secretaries serve as trusted members of a law firm, as they must:
Be precise and accurate in their work; in 2017, according to the Legal Reader website, a $10 million court decision hung on the placement of a comma in a statute. Whether mis-drafted or mis-typed, someone should have paid more attention to detail!
Respect strict confidentiality requirements
Organize, classify, and categorize mountains of paperwork associated with complex cases
Navigate the often-complex document management, timekeeping, and billing software packages used in modern law offices
Once upon a time, a legal secretary would be assigned to a single attorney and serve as their right hand in all facets of the practice. Good professional relationships were a must, and a successful lawyer-legal secretary team might be together for years and function with enormous efficiency.
But times have changed and staffing levels and the ability of computers to take on much of the clerical work of secretarial staff has left most firms to pool the resources of their legal secretaries. One secretary might work with half a dozen or more lawyers and paralegals now, working with various partners within a firm at different times as resources are allocated to different projects as needed.